The Ecuadorian boy was awestruck. He just couldn't reconcile what he was seeing with what he was hearing.
The village boy didn't know that people who had African skin like his spoke anything but Spanish.
"He followed us around the little village just mesmerized that he was seeing African Americans there with the Afro-Ecuadorians," recalls Tony Mathews, pastor of North Garland Baptist Fellowship, a predominantly African-American congregation in the Dallas-Fort Worth metroplex.
Afro-Ecuadorians are descendants of slaves who formed settlements on Ecuador's coast. The Spanish sailed the Afro-Ecuadorians' ancestors to Ecuador in the early 16th century. Some of them escaped from shipwrecks on voyages intended to reach countries farther south. Today, more than 600,000 Afro-Ecuadorians represent approximately 5 percent of Ecuador's population.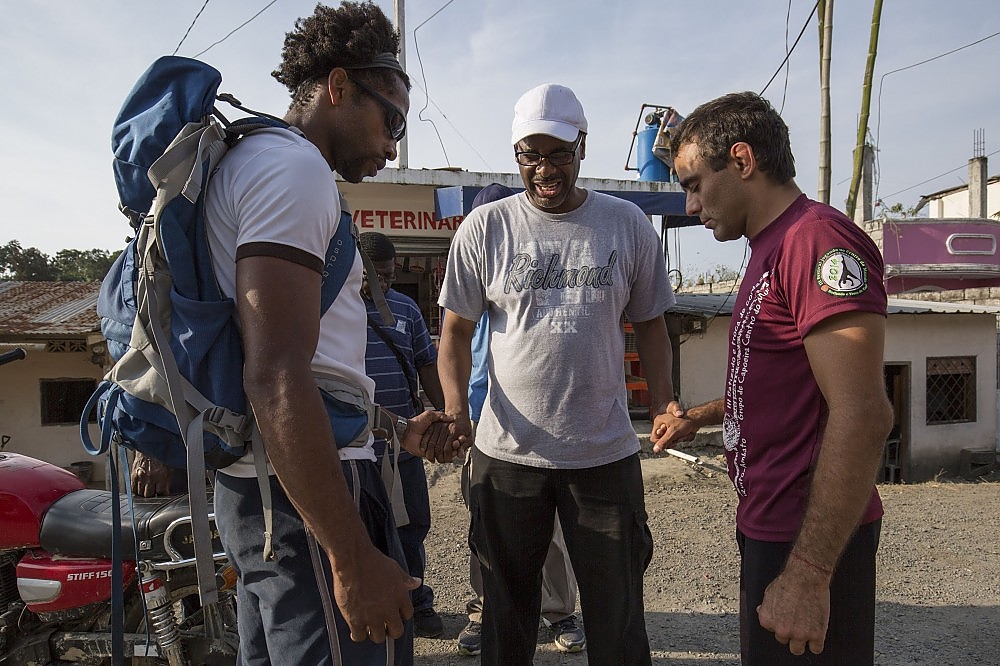 THE ART OF THE HEART
During a missions trip to Ecuador, Tony Mathews, center, pastor of North Garland Baptist Fellowship in Garland, Texas, prays with two young men he met in the small town of Lagarto. This coastal area of Ecuador is home to many Afro-Ecuadorians, descendants of African slaves.
Mathews visited Ecuador for the first time in the fall of 2013 at the urging of Keith Jefferson, an IMB strategist who recruits and mobilizes Southern Baptist African-American congregations to deeper global missions involvement. Jefferson led the trip to Ecuador with a small group of African-American pastors from the Dallas area.
His goal was to encourage the pastors and their congregations to partner with IMB missionaries Johnny and Donna Maust from Alabama and Louisiana, who are sharing the gospel with Afro-Ecuadorians, an unreached people group along coastal Ecuador. They are considered to be unreached with the gospel because their population is less than 2 percent evangelical Christian.
After 13 years of church planting and training others to plant churches among the Mestizo people in the Andes Mountains of Ecuador, this past year the Mausts moved to the country's northern coast, where there has been no Southern Baptist missionary presence for about a dozen years.
HAPPY ACCIDENT
After dropping his I.D. card during a riverboat ride with the Texas pastors, Johnny contacted a local police officer to help him recoup his permit.
In the process, Johnny shared the gospel with the man. Interested, the officer asked questions about Jesus and accompanied the missions group to dinner.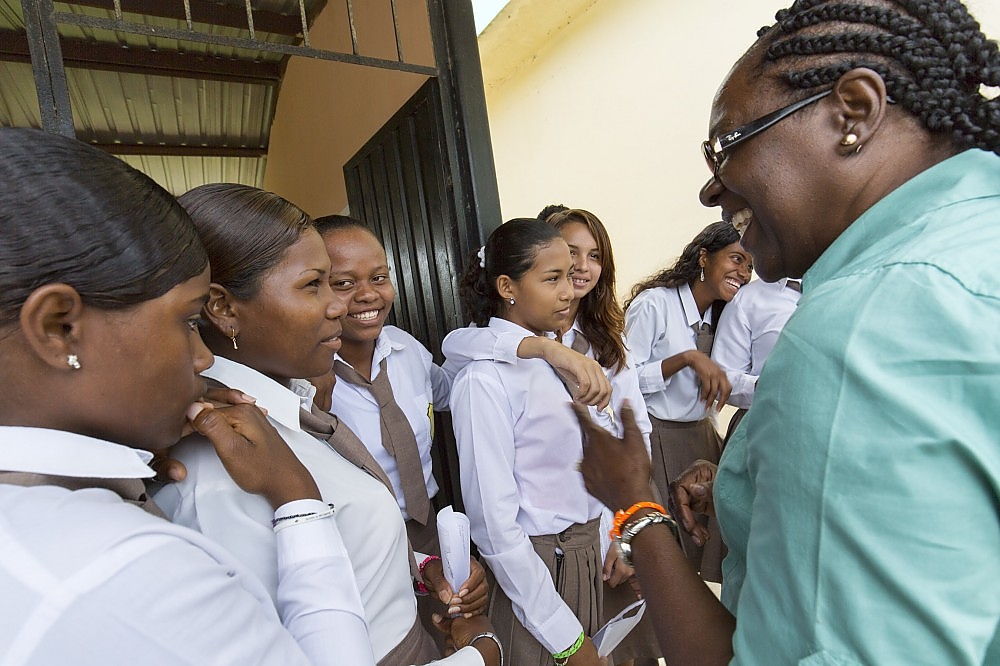 MAKING CONNECTIONS
Maxine Simpson, right, an English-as-a-Second-Language (ESL) teacher from Great Hills Baptist Church in Austin, Texas, gets acquainted with high schoolers in Lagarto, Ecuador. Simpson led ESL classes at the school during a missions trip involving some African-American pastors and a few of their church members.
"He started telling us about challenges that he was having at home and how he wanted to have a closer walk with the Lord," Mathews recounts. "It was just a blessing to see how God used the circumstance … for us to have an opportunity to witness to this police officer."
The group of visiting pastors — and a few of their church members — discovered that African Americans have an inroad to share the gospel among Afro-Ecuadorians because of their interest in interacting with people who share their skin color but speak a different language than they do.
"These are African people. They look like me, they look like my children, they look like our church members," says Mathews.
"We automatically have an affinity with these Afro-Ecuadorians and people of color that otherwise we wouldn't have, and it really does in many instances open the door in ways that are unique, where people will trust and they will give us an opportunity to talk with them.
"Seeing African-American men over there speaking with them about making right choices and doing the right thing produced a level of significant engagement. Even with a translator, that connectivity was there; it was not only there because of what we said, it was also there because of who we are," Mathews says. He is now leading other Dallas-area African-American pastors on vision trips to the same area.
CRITICAL LINK IS THE CHURCH
"It was overwhelming response because we looked like them," says Billy Bell, pastor of New Creation Bible Church in Dallas, Texas, who was part of the initial vision trip. "… It was easy to establish relationship. They were just amazed that we didn't speak Spanish."
"It was overwhelming response because we looked like them," says Billy Bell, pastor of New Creation Bible Church in Dallas, Texas, who was part of the initial vision trip. "… It was easy to establish relationship. They were just amazed that we didn't speak Spanish."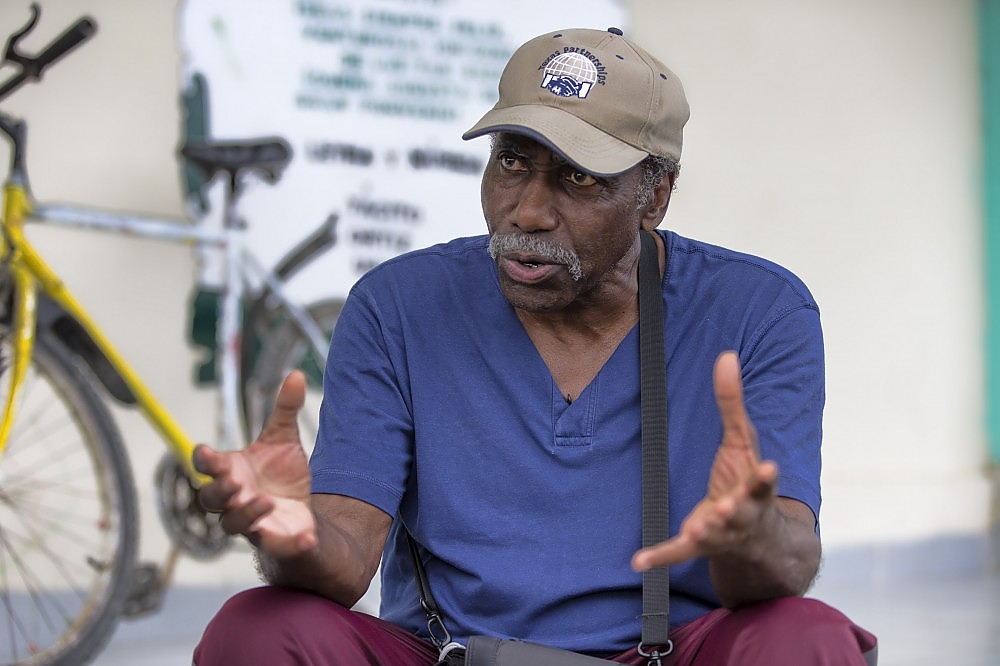 REACHING OUT
Billy Bell, pastor of New Creation Bible Church, Dallas, Texas, says African-American volunteers got "overwhelming response" from Afro-Ecuadorians they reached out to in Lagarto, Ecuador.
During his visit with the Mausts, Bell realized how churches like his "can be plugged in to the overall ministry of those missionaries because they have a large field to cover. They can't do it all, as a result the missing link is the local (churches) coming on a short-term basis to be able to fill in the gap in areas where they can't reach."
Bell, also a church-planting consultant for Dallas Baptist Association, had been on missions trips before, but this was the first time he had helped missionaries establish a presence somewhere instead of conducting activities for already established ministries.
"We were actually a part of going around with them … and seeing relationships being established for future ministry opportunities," Bell says.
For example, the community's public affairs director, who also is an English teacher, asked Johnny to help him with his English since it is the missionary's native language.
So Johnny invited the teacher to his house for English lessons once a week. Better still, the man said, "Why don't you come by my house?"
Getting an invitation to spend time with a local family in their home is what a missionary hopes and prays for, Bell says.
NOT PEOPLE OF IRON, PEOPLE OF PRAYER
By the same token, the pastors spending time with the missionaries gave them a glimpse into the everyday challenges of living among an under-evangelized people group.
"I saw the tribulations and the trials they had to go through as missionaries to just go in and try to establish those relationships so the seeds of the gospel could be planted, and I really appreciate them a lot more than I did before," Bell says.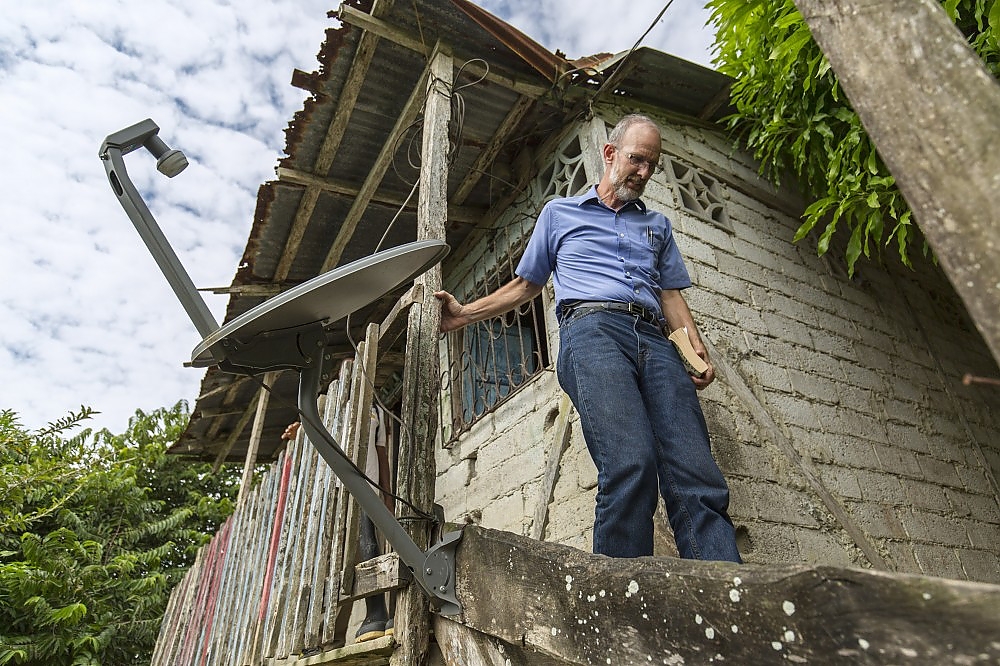 WHEREVER GOD LEADS
Near Rioverde, Ecuador, IMB missionary Johnny Maust leaves a home where he just finished teaching a Bible study. After 13 years of working among Mestizo people in the Ecuadorian Andes, last year Maust and his wife, Donna, moved to Ecuador's northern coast to take the gospel to Afro-Ecuadorians.
"A lot of people think that missionaries are iron people but they're not, they're just like you and me," he says. "God gave me an opportunity to be able to see and actually be a part of that missionary work. It's affected my prayer life, on a daily basis I pray for Johnny and Donna. They've expressed certain needs that they needed us to pray for and we've been praying for those needs."
Among the prayer needs are for the development of missions partnerships among these visiting pastors, for Christian leaders to emerge from among the Afro-Ecuadorian communities to help start new churches, for wisdom to deal with the strongholds of witchcraft, immorality and drug abuse rampant in the area and for opportunities to share Christ with the local women Donna has invited to the Maust home for cooking classes. After Donna's dessert placed second in a community cooking competition, the area tourism coordinator asked the Mausts to teach locals cooking and English to enhance local work opportunities.
Pray for these doors to continue to open, Johnny says.