Tony Mathews had thought global missions wasn't for everyone, that as a pastor his focus should be on the local church.
North Garland Baptist Fellowship, where he has served for 22 years, supported the Cooperative Program. Members of the Texas church had gone on international missions trips, which the pastor had supported — from a distance.
That changed in 2012 when he went on his first missions trip to help lead activities for children of Southern Baptist missionaries in Africa.
Trying to fathom what it was like for them to live away from the comforts and familiarity of home, Mathews asked one of the children if she wanted to live in the U.S. again to have closer access to places like restaurants and theme parks. The 9-year-old girl said no. When he asked why, she responded: Because my best friend here doesn't know the Lord.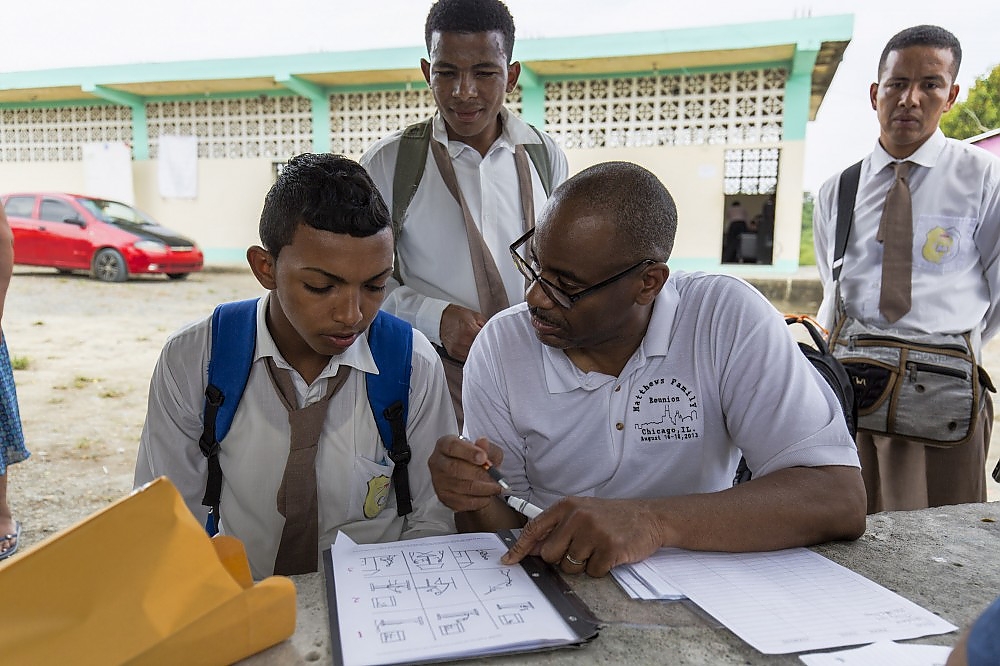 ON MISSION IN ECUADOR
During a volunteer missions project in Lagarto, Ecuador, Tony Mathews, seated at right, pastor of North Garland Baptist Fellowship in Texas, conducts a language evaluation for placing this high school student into English-as-a-Second-Language classes to be led by African-American volunteers from Texas.
Hearing that clarity of purpose from one so young impacted Mathews. While he was still in Africa, he rewrote North Garland's new members packet to re-emphasize missions, "to build it into our DNA, not just in the church but within each member: 'We do missions.'"
Talking with the children's parents, the missionaries, face to face also changed how Mathews saw the world, and himself.
"I was overwhelmed hearing the missionaries' stories — hearing about the lives they've touched and going places where others didn't go," Mathews says. Through the Cooperative Program and the Lottie Moon Christmas Offering for International Missions, "our pennies, our nickels, our dollars enable them to share. And through that, we're a part of what they're doing."
IMB missionary Adam Hailes showed the pastor photos of a people group in Madagascar and told him about the opportunities and challenges of reaching them. It was the same people group, the Antandroy, that Southwestern Baptist Theological Seminary in Fort Worth had recently adopted. Mathews' church in Garland, a suburb of Dallas-Fort Worth, decided to partner with the Hailes to reach the Antandroy and send ministry teams to Madagascar.
When Mathews returned from Africa, he made it his mission to enlist other African-American pastors in missions trips, knowing from personal experience how enriching a pastor's personal involvement in global missions could be to a local church.
As a result, Mathews and a group of other Dallas-area African-American pastors began partnering with IMB missionaries Johnny and Donna Maust to reach Afro-Ecuadorians along the South American country's coast.
Again, it was that personal connection with a missionary that made missions real for Mathews.
"Just getting to know Johnny and to see his heart for the Afro-Ecuadorians is encouraging — he'll go anywhere and talk with people about the Lord," says Mathews, realizing that willingness is what embodies missions.
"Now, I desire that everyone craves to be a part of it," Mathews says. "I want to show my people that God is not only their personal God, but He is also a global God and we need to be there to share that news with others."